Cyberjaya, 12 October 2023 – Dagang NeXchange Berhad ("DNeX") has signed a Memorandum of Understanding ("MoU") with Strateq Sdn Bhd ("Strateq") to collaborate in exploring opportunities in Information Technology ("IT") namely Big Data and Analytics.
Both parties will work together to pursue projects in these areas as well as artificial intelligence ("AI"), data governance and relevant large-scale IT projects in both the public and private sectors.
The MoU was formalised in Cyberjaya earlier today where DNeX was represented by Executive Chairman Tan Sri Syed Zainal Abidin Syed Mohamed Tahir, and Strateq was represented by Group Managing Director Datuk Tan Seng Kit. Also present at the event are Encik Azhar Othman, Group Chief Operating Officer of DNeX, Encik Mahzan Miskan, Director, Transformation Management of Dagang Net Technologies Sdn Bhd, Encik Mazlan Tuhiman, Acting Chief Executive Officer Innovation Associates Consulting Sdn Bhd.
According to Tan Sri Syed Zainal Abidin Syed Mohamed Tahir, this is part of efforts to expand services offerings of DNeX's IT business unit, leveraging on its track record in implementing large scale digitalisation projects in both the public and the private sectors.
"With new capabilities and a strong partnership, we look forward to opportunities to offer Big Data and Analytics as well as related services in the local and international markets," he said.
He added that the synergy between DNeX and Strateq can serve as a springboard to accelerate the adoption of advanced digital technologies, capitalising on capacity building and capabilities in digital technologies from both entities.
"This collaboration is timely as we move in tandem with the fast-paced technological evolvement that will pave the way for digital transformation. Working with a strategic partner such as Strateq is in line with our pursuit to continue delivering innovative solutions for customers, and in this case, Big Data and Analytics and related technologies," he said.
DNeX is a reputable IT player with an established track record in implementing projects that drive digitalisation to the public and private sector. Notable completed projects include the Integrated Government Financial and Management Accounting System ("iGFMAS") for Ministry of Finance and Hasil Integrated Taxation System ("HITS") for Inland Revenue Board of Malaysia, amongst others.
Commenting on the partnership, Datuk Tan Seng Kit said, "The signing of this MoU between Strateq and DNeX reflects our shared vision for a dynamic and technologically advanced future. As we embark on this collaborative journey, we are determined to create new possibilities and elevate industry standards. Our partnership sets an example for innovation, creating value and unlocking opportunities for all stakeholders. Most importantly, we are committed to the responsible governance of AI, ensuring that our technological advancements benefit society at large."
"Moving forward, Strateq and DNeX will start strategising on the go-to-market approach with Data and AI solutions. Both organisations are to work on account mapping and develop project timelines for implementation as well as allocation of resources and sharing of data for clear communications flow and ownership," he added.
Strateq is a global multi-disciplinary technology enabler powering digital strategies for healthcare, energy, utility, financial services and public sector with end-to-end digital capabilities.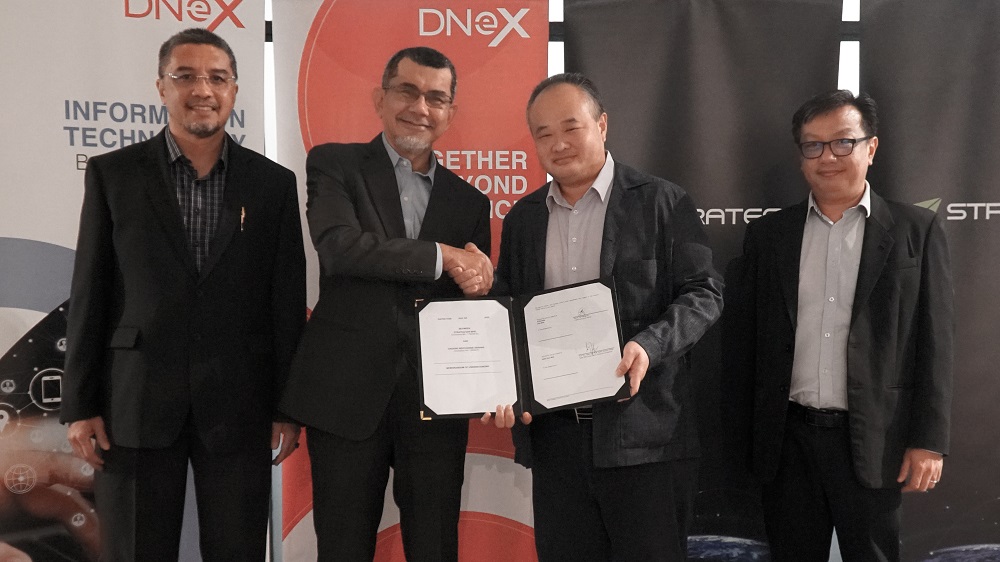 Photo Caption (Left to Right)
Azhar Othman, Group Chief Operating Officer of DNeX
Tan Sri Syed Zainal Abidin Syed Mohamed Tahir, Executive Chairman of DNeX
Datuk Tan Seng Kit, Group Managing Director of Strateq
Chin Kok Loon, Senior Director, Enterprise Software Group of Strateq