Dear Valued Customers,
Warmest greetings from Dagang Net Technologies Sdn Bhd.
Dagang Net's ePayment - Making Digital Transformation Happen Today
Introducing ePayment!
With ePayment, users can now prepare, submit and settle payments with online convenience. As the eService continues to operate beyond banking hours, payment processes can happen anytime, anywhere and with full support from the Royal Malaysian Customs Department (RMCD).
Why Your Business Needs Dagang Net's ePayment:
✓ Instant Payment - The use of ePayment cancels out the use of drafting checks, transmitting cash and invoices for both businesses and customer.
✓ Higher Payment Security – Two tier user roles for the payment, maker and approver roles.
✓ Better Customer Convenience – Eliminates constant manual reminders, electronically triggers your customers to complete the payment instructions.
✓ Contactless – Payment can be prepared and approved from anywhere and anytime, more relevant especially during the MCO period.
✓ Real time processes – Processes are almost fully automated, and happen in real time.
ePayment Features:
✓ Consignee/ Consignor Module for making payment to Customs
✓ Email notification for updated payment status
✓ Checker & maker roles
✓ Improved reporting
✓ Improved searching function
✓ Transaction history record
✓ Web & mobile friendly
✓ Dual language
ePayment covers online payment of:
✓ Customs duties and Importation Sales and Service Tax to Royal Malaysian Customs Department
✓ Permit fees to Permit Issuing Agencies
✓ Bill payments to Dagang Net
The following diagram illustrates the process flow of ePayment for Customs Duties;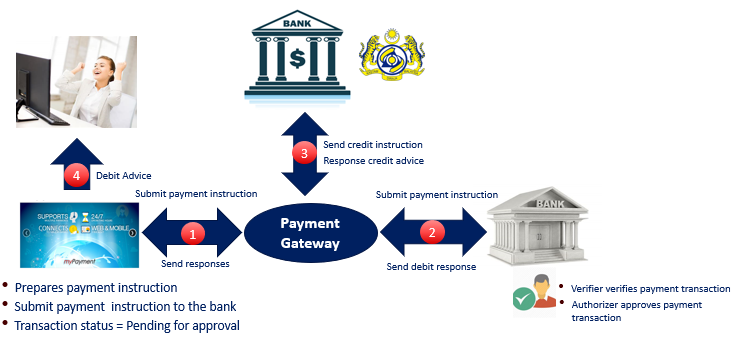 In line with the Government's recommendations, please click on the following link or attachment for more information:
https://www.astroawani.com/berita-malaysia/semua-bayaran-perkhidmatan-kerajaan-dibuat-secara-tanpa-tunai-pada-2022-tengku-zafrul-302139
Register Now:
Do not miss the hype. Register now to experience the new features of Dagang Net's ePayment. Contact our Careline at careline@dagangnet.com or call at 1300 133 133.
Thank You
Attachment:
Semua bayaran perkhidmatan kerajaan dibuat secara tanpa tunai pada 2022 - Tengku Zafrul _ Astro Awani