Kuala Lumpur, 24 January 2019 – Dagang Net Technologies Sdn Bhd, a wholly-owned subsidiary of Dagang NeXchange Berhad ("DNeX"), has launched a new eService for cargo clearance via air mode.
Called Pre-Alert Manifest, the eService can facilitate efficient trade documentation processing and cargo movement into the country. This is meant for small imported goods comprising parcels, documents and letters with a total cost, insurance and freight ("CIF") value not exceeding RM500 per consignment.
The eService was launched today by Yang Berbahagia Dato' Paddy Abdul Halim Deputy Director General Royal Malaysia Customs Department at Mövenpick Hotel and Convention Centre KLIA, Sepang. Also present at the event was Datuk Samsul Husin, Executive Deputy Chairman of DNeX and also Executive Chairman of Dagang Net.
Pre-Alert Manifest is a fully integrated solution with an automated platform processing of common assessments and validation criteria to expedite air cargo processing and clearance. The eService complements and is operable with existing Customs-related trade documentation processes and systems.
It is a client-based system that features data reusability to accelerate and simplify submission and verification processes by omitting the need to repeat data entry. It also offers such features as dashboard reporting; reconciliation and automated alert mechanism; traceability and monitoring of goods; fraud detection; and risk management.
"We continue to grow our solution within Trade Facilitation eco system under our Dagang Net Digital Platform initiative to provide end-to-end, innovative services to help customers be more efficient. Pre-Alert Manifest is another testimony to this commitment," said Datuk Samsul Husin, Executive Deputy Chairman of DNeX, and also Executive Chairman of Dagang Net.
In addition, he said the new eService will be able to tap into a new market for the company namely the small imported goods via air mode segment. Pre-Alert Manifest is expected to attract about 250,000 to 350,000 transactions per month, and its fee is 80 sen per kilobyte of data transmitted.
The system is developed and maintained by completely 100 per cent local talents. Dagang Net has some 300 employees who manage and maintain the National Single Window ("NSW") eco system including a contact centre that operates 24 x 7 every day.
Dagang Net has been the operator of the NSW for Trade Facilitation since its launch in 2009, and includes six core eServices namely eDeclare, ePCO, ePermit, ePermitSTA, eManifest and ePayment, which provides the trading community with connectivity for import and export document processing to 167 points of entry and exit and more than 30 permit issuing agencies in Malaysia as well as a link to more than 10 banks. The company's secured and robust infrastructure processes about 100 million transactions a year, and serves over 35,000 users in Trade Facilitation and logistics.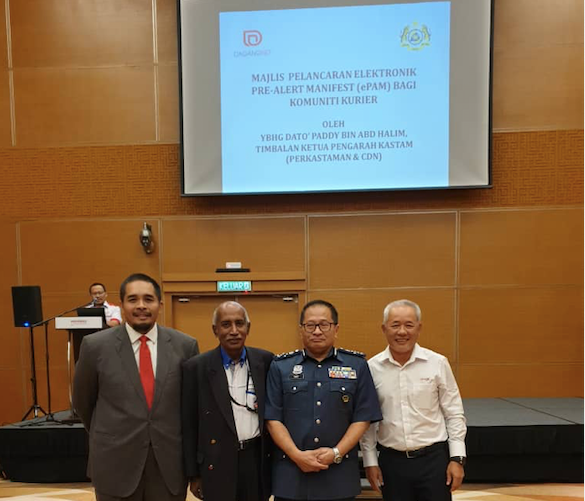 Standing from Left to Right :
i.      Encik Wan Ahmad Syatibi Wan Abd Manan, Chief Executive Office Dagang Net
ii.     Mr. Walter Culas, Chairman Airfreight Forwarders Association of Malaysia
iii.   Dato' Paddy Abdul Halim, Deputy Director General Royal Malaysia Customs Department
iv.   Datuk Samsul Husin, Executive Deputy Chairman of DNeX and also Executive Chairman of Dagang Net