Kuala Lumpur, 28 August 2017 – GoHalal, an eMarketplace for the Halal industry, has recently signed a memorandum of understanding ("MOU") with Malaysian Islamic Chamber of Commerce or Dewan Perdagangan Islam Malaysia to expand on the eMarketplace's products and services offerings.
Under the MOU, GoHalal will serve as the eMarketplace for merchants under the chamber to promote and sell their products and services online, and provide them with access to a wider market both here and abroad.
Through GoHalal, merchants under the chamber will be able to have access to the USD2.5-trillion Muslim lifestyle market place globally. There are currently over 2,000 merchants under the chamber.
The signing of the MOU agreement was held in Putrajaya recently where GoHalal was represented by its Chief Executive Officer Dato' Mohd Nasaruddin Ahmad, and Malaysian Islamic Chamber of Commerce was represented by its Secretary General Abdul Mohsein Mohd Shariff.
The signing was witnessed by Federal Territory Mufti Datuk Dr Zulkifli Al Bakri, Deputy President of Malaysian Islamic Chamber of Commerce Hj Mohamad Sahar Bin Md Din, and Executive Deputy Chairman of Dagang NeXchange Berhad ("DNeX") Datuk Samsul Husin.
GoHalal eMarketplace, an offering by DNeX and accessible at www.gohalal.com.my, is taking the Halal industry online where companies or individuals can get suppliers or buyers for their products and services as well as obtain and exchange information on the industry within clicks. GoHalal was formerly known as Global Halal Exchange.
"We are excited to be working together with Malaysian Islamic Chamber of Commerce and looking forward to collaborate with merchants that the chamber represents to offer a marketplace where consumers can have access to Halal products and services globally," said Datuk Samsul Husin.
He added that DNeX views this as a strategic partnership where a public-listed company collaborates with small and medium enterprises ("SMEs") to grow their business to the global market through e-commerce.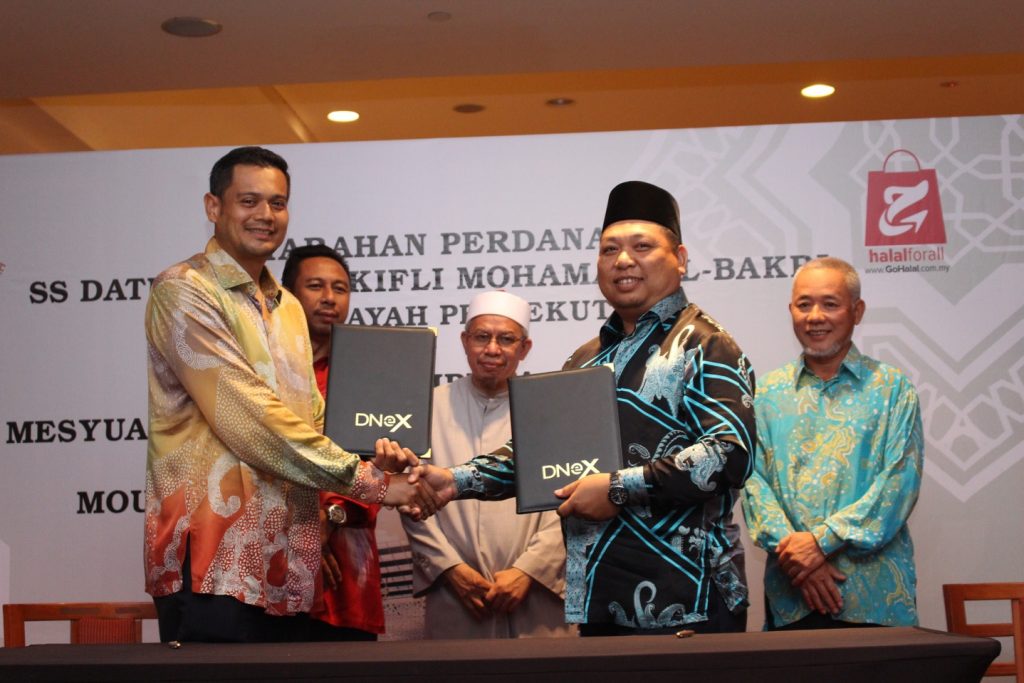 Left to Right (back row) : Deputy President of Malaysian Islamic Chamber of Commerce Hj Mohamad Sahar Bin Md Din, Federal Territory Mufti Datuk Dr Zulkifli Al Bakri, Executive Deputy Chairman of DNeX Datuk Samsul Husin
Left to Right (front row) : Secretary General of Malaysian Islamic Chamber of Commerce Abdul Mohsein Mohd Shariff and GoHalal Chief Executive Officer Dato' Mohd Nasaruddin Ahmad