Kuala Lumpur, 7 February 2018 – Dagang NeXchange Berhad ("DNeX"), through subsidiary company DNeXPORT Sdn Bhd, has announced a partnership with SEEBURGER AG to offer a comprehensive solution for seamless and secure cross border trade.
Under the partnership, DNeX will integrate SEEBURGER's Business Integration Suite (BIS) into 1Trade, a Web-based one-stop portal for total cargo and trade management services. The integration is aimed at enhancing capabilities of 1Trade namely for users and stakeholders that require business integration solutions. BIS enables seamless integration of all systems, applications, business partners and cloud services. With BIS, data can be accessed anywhere in real-time, resulting in higher revenue and profitability.
Targeted at businesses in the Trade Facilitation and Logistics sector, primarily exporters and importers and logistics service providers, 1Trade by DNeX converges supply chain and cross border logistics processes to simplify cargo and trade management processes.
DNeX will also market BIS along with 1Trade in Malaysia and the Asian region as well as countries where SEEBURGER has business presence.
The partnership was formalised in Kuala Lumpur today where DNeX was represented by its Executive Deputy Chairman Datuk Samsul Husin and Executive Director Dato' Patrick Wong.
SEEBURGER was represented by Mr. Ulf Persson, Senior Vice President Global Business Development and Mr. P.B. Gurudutt, Director Strategic Market Development. Also present were En Zainal Abidin Jalil, Group Managing Director of DNeX and Mr Jens Brinckmann, Counsellor for Economic, Commercial and Environmental Affairs, German Embassy in Malaysia.
"1Trade's capabilities in total cargo and trade management can help users improve on their productivity, and on a larger scale create cross border business opportunities. We are pleased to be working with SEEBURGER in this partnership, which can add on capability and reliability of 1Trade in managing user requirements for business integration. DNeX has created an ecosystem for Trade Facilitation and we stay competitive by leveraging on the latest technology and data that we have. This move is certainly aligned to our strategy," said Datuk Samsul Husin.
"In every company, there is a requirement to securely transmit data. With SEEBURGER (BIS), companies gain a secure and reliable transfer of data and the capability to automatically integrate all business processes with customers, external business partners and internal applications. This exciting partnership between SEEBURGER and DNeXPORT will bring interoperability between various players in the trade community, and as a result there will be a top-notch level of trade efficiency in Malaysia and beyond," said Mr Michael Kleeberg, Co-CEO, SEEBURGER AG.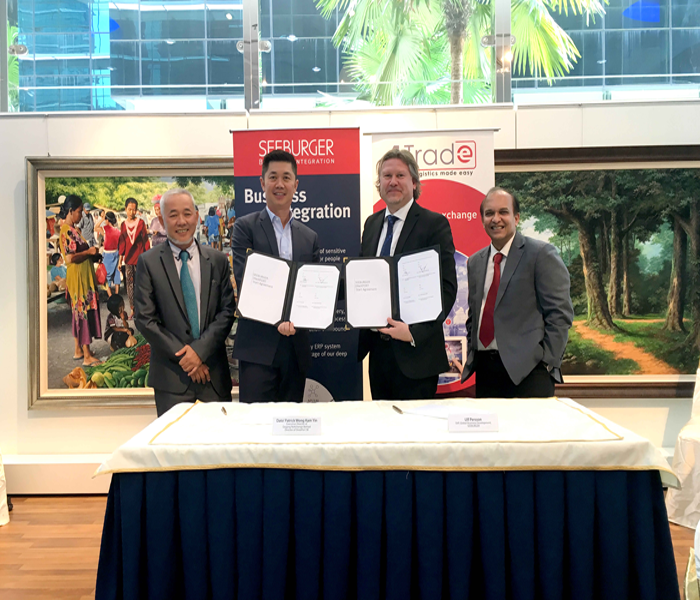 Left to Right: Datuk Samsul Husin, Executive Deputy Chairman DNeX, Dato' Patrick Wong, Executive Director DNeX, Mr Ulf Persson, Senior Vice President Global Business Development SEEBURGER AG, Mr. P.B. Gurudutt, Director Strategic Market Development SEEBURGER AG