Cyberjaya, 23 October 2023 – Dagang NeXchange Berhad ("DNeX") is establishing access to Chinese high technology information technology ("IT") solutions and strengthening the company's ties with its partner in the Middle East to expand its geographical footprint into the Middle East and North Africa ("MENA") region.
At a signing ceremony held in the Kingdom of Saudi Arabia ("KSA") recently, DNeX entered into a Joint Venture Agreement with Zhongheguoji Construction Group Co Ltd ("CSI") for the establishment of a joint venture enterprise ("JVE") to source for state-of-the-art technology and solutions from China.
CSI is a Chinese enterprise owned by the whole people of China (ultimately owned by the China Government) and is tasked to capitalise on the resource advantages in China, including IT industry, digital platforms, research institutions and local China connection to implement urban intelligence, rural modernisation, and other IT execution work.
Under Phase 1 of the JVE, DNeX via CSI, will secure access to Smart City technology from Chinese technology partners which include Tencent, the developer of WeChat and a leading technology company listed on the Hong Kong Stock Exchange Kong as well as Tsinghua University Urban Institute, under Tsinghua University, which holds the prestigious 12th rank in the 2024 World University Rankings.
Beyond this, the JVE is also set to expand its technological scope by partnering with other Chinese entities specialising in various sectors such as supply chain and logistics, intelligent transportation, electrical manufacturing, clean energy, data centers, and equipment.
In addition, DNeX through subsidiaries SealNet Sdn Bhd and DNeX MENA Sdn Bhd, has also signed a Collaboration Agreement with Ajlan & Bros Information Systems Technology ("Ajlan Tech") and CSI to explore opportunities in commercial projects in the KSA in offering Smart City solutions and other relevant technology solutions. Ajlan Tech is a business unit under Ajlan & Bros Holding Group, one of the largest private sector conglomerates in the Middle East region, employing over 15,000 people in more than 25 countries.
According to DNeX Executive Chairman Tan Sri Syed Zainal Abidin Syed Mohamed Tahir, these agreements will pave the way for DNeX's rapid expansion in the MENA region. They grant DNeX access to China's cutting-edge technology solutions across a wide array of domains, including Smart City Applications, such as e-government services and e-commerce, as well as Emerging Technologies like the Internet of Things ("IoT"), AI, and block chain, he said.
"Combining these technological assets with DNeX's existing strengths in Enterprise Applications, System Integration, Project Management, and Logistics Solutions, we are uniquely equipped to deliver a comprehensive suite of digital transformation solutions."
"With the best-in-class technical solutions and capabilities from China and leveraging on the vast business network of our partner, Ajlan & Bros Holding Group, which has investments in more than 20 sectors across the MENA region, we are well positioned for success. Given DNeX's track record of executing large scale Government and enterprise projects, we are fully capable of providing end-to-end execution capabilities for large scale IT projects encompassing Smart City developments, e-government service offerings and system integration works," he said.
DNeX brings an extensive experience and expertise in the IT sector with a proven track record in delivering eServices to the Government of Malaysia including the development of the country's National Single Window ("NSW") for Trade Facilitation and serving as its operator since 2009, processing more than 70 per cent of all export and import transactions into the country annually; the mobile application version of the company's web-based eServices called TradeSwift DAGANGNET, an all-in-one trade facilitation SuperApp that is set to revolutionise trade process for users to perform and access their trade documentation; the development and maintenance, support services and application improvement of the integrated government financial and management system ("iGFMAS"), and application and software maintenance of Malaysia Integrated Taxation Systems ("HITS").
"As a start, we will identify prospects arising from KSA's modernisation efforts outlined in Saudi Vision 2030, which aims to transform the nation into a modern and diversified economy. With a strong emphasis on digital transformation, ICT spending in KSA has grown rapidly. Evidence of this can be found in KSA's annual ICT spending in 2022, which reached USD40.9 billion, almost double the forecast figure predicted by GlobalData. Substantial investments are being made in the areas of AI, IoT, cybersecurity and big data analytics as the Kingdom aims to build a resilient digital economy."
"The collaborative synergies among Ajlan & Bros Holding Group, DNeX and DNeX's China partners led by CSI, offer a compelling value proposition with considerable global reach, extending beyond KSA to the broader MENA region, and even taking these expertise to bid for relevant large scale projects in Malaysia. Looking ahead, the market potential is attractive, and our partnership is designed to leverage on these global trends in digital transformation. We are actively exploring and bidding for a wider range of IT projects with a specific focus on projects in Smart City infrastructure, advancements in e-government services and expansion of digital commerce," he said.
The exchange of signed documents was held in Riyadh on Saturday and witnessed by Yang Amat Berhormat Dato' Seri Anwar Ibrahim, Prime Minister of Malaysia, Yang Berhormat Senator Tengku Datuk Seri Utama Zafrul Tengku Abdul Aziz. Minister of Investment, Trade & Industry of Malaysia and Yang Berhormat Senator Dato' Seri Diraja Dr. Zambry Abdul Kadir, Minister of Foreign Affairs of Malaysia. This came after a discussion among Yang Amat Berhormat Dato' Seri Anwar Ibrahim, Tan Sri Syed Zainal Abidin Syed Mohamed Tahir, Mr Abdullah Aljeidan, Deputy CEO of Ajlan Tech and Mr Liu Ran, Vice President of CSI where the Prime Minister was duly updated on DNeX and Ajlan's plan to export local Malaysian know-how and high tech IT solutions from China to KSA.
Photo Caption (Left to Right)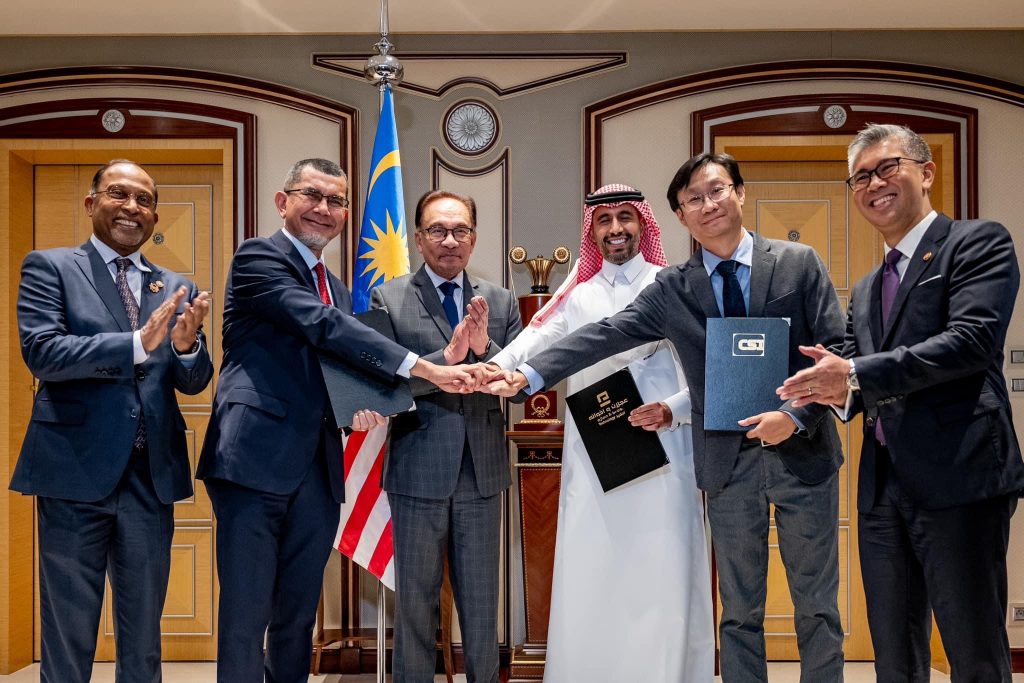 Yang Berhormat Senator Dato' Seri Diraja Dr. Zambry Abdul Kadir, Minister of Foreign Affairs of Malaysia.
Tan Sri Syed Zainal Abidin Syed Mohamed Tahir, DNeX Executive Chairman
Yang Amat Berhormat Dato' Seri Anwar Ibrahim, Prime Minister of Malaysia
Mr Abdullah Aljeidan, Deputy CEO of Ajlan Tech
Mr Liu Ran, Vice President of CSI
Yang Berhormat Senator Tengku Datuk Seri Utama Zafrul Tengku Abdul Aziz, Minister of Investment, Trade & Industry of Malaysia