Kuala Lumpur, 24 July 2018 – Dagang NeXchange Berhad ("DNeX"), through wholly-owned subsidiary Global Market eCommerce Sdn Bhd ("GMeC"), has launched its GoHalal platform in Philippines.
This is a key initiative after an agreement signed last month between the company and the Local Government of Naga City of the Philippines, and the Department of Education Division of Naga City.
Under the agreement, DNeX will be given the opportunity to implement overall initiatives for a Halal Hub in Philippines including the development of blueprint, systems and framework for the Halal Hub.
Accessible at www.gohalal4all.com, the platform is aimed to generate interest and participation among merchants, producers, manufacturers, slaughtering houses, logistics players, retailers, hypermarket chains, hotels and relevant businesses in Philippines in the Halal industry.
At the same time, GoHalal4All in Philippines is aimed to generate interest among consumers of that country in products, services and other offerings of the Halal industry.
The launched was held earlier today at the Avenue Plaza Hotel in Naga City, Philippines. At the event, DNeX was represented by En Mohamed Hazli Mohamed Hussain, Executive Chairman of GMeC and Dato' Seri Muhamad Khanafi Husin, Director of GMeC. Parties from the Philippines were represented by Hon. John G. Bongat, Mayor City of Naga, and Dr. William E. Gando, CESO VI Schools Division Superintendent, Department of Education, Division of Naga City, Region V.
Also present at the event were Mr Alec Francis Santos, Tourism Officer Naga City, Ms Edna Tejada, Provincial Director of Department of Trade and Industry of Camarines Sur; and Datuk Seri Mohd Rizal Mohd Yusof, Chairman of Euro Jasmine Holding Sdn Bhd.
"The launch of GoHalal4All in Philippines is the first initiative under our partnership with Naga City. More initiatives are in the pipeline including the provision of Halal-related training, and marketing internationally all certified Halal products within the Halal Hub. DNeX will also be involved in the establishment of a Halal Accreditation and Certification Centre for the Halal Hub," said Mohamed Hazli Mohamed Hussain.
DNeX currently operates GoHalal eMarketplace for the Halal industry, which is accessible at www.gohalal.com.my. It is taking the Halal industry online where companies or individuals can get suppliers or buyers for their products and services as well as obtain and exchange information on the industry in a few clicks.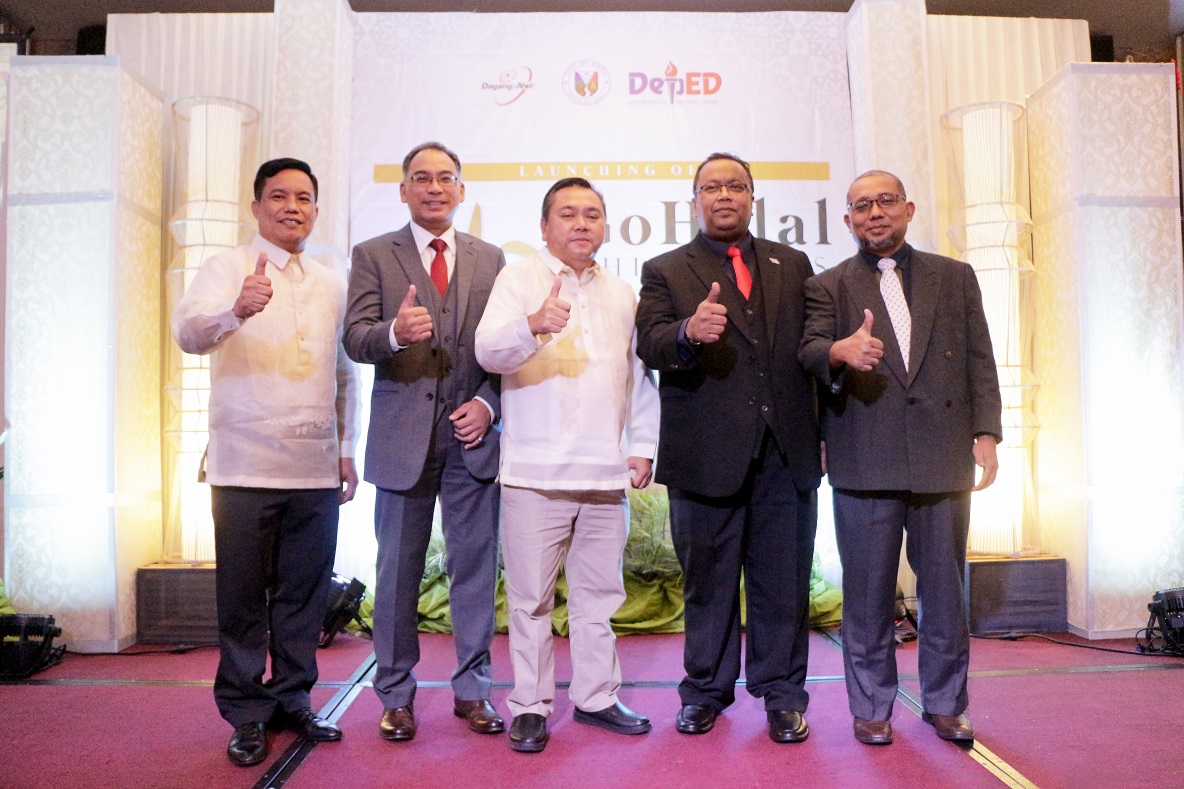 From left to the right:
1. Dr. William E Gando, CESO VI Schools Division Superintendent, Department of Education, Division of Naga City, Region V
2. En Mohamed Hazli Mohamed Hussain, Executive Chairman of GMeC
3. Hon John G. Bongat, Mayor City of Naga
4. Datuk Seri Mohd Rizal Mohd Yusof, Chairman of Euro Jasmine Holding Sdn Bhd
5. Dato Seri Muhamad Khanafi Husin, Director of GMeC