Kuala Lumpur, 9 August 2018 – Dagang Net Technologies Sdn Bhd, a wholly-owned subsidiary of Dagang NeXchange Berhad ("DNeX"), has signed a memorandum of understanding ("MoU") with Audatex Malaysia Sdn Bhd to provide a comprehensive motor parts, prices and repair times database system for automotive insurance repair.
Under the MoU, the collaboration will include the setting up of a computerised repair estimating system and vehicle identification number ("VIN") identification backed by a powerful database, which contains automotive repair times on specific brands and models to complement the current market situation.
The system is aimed to offer transparency and efficiency to the claims process by providing more accurate vehicle collision damage estimation and insurance claims handling, and comprehensive repair estimate including parts, labour and paint.
In addition, it is able to lower complexity of estimation and claims adjustment thus speeding up the whole process. By relying on more accurate repair guides, the system can also help reduce disputes between insurers and repairers.
At the signing held earlier in Kuala Lumpur, Dagang Net was represented by Datuk Samsul Husin, Executive Deputy Chairman of DNeX and also Executive Chairman of Dagang Net as well as En Wan Ahmad Syatibi Wan Abdul Manan, Chief Executive Officer of Dagang Net. Audatex was represented by Mr Brian Seldess, Audatex APAC Managing Director and Mr Charlie Ting, Country Manager Malaysia.
"We are excited to collaborate with Audatex, which is a leading global provider of collision repair estimating and claims solutions, to enter into provision of this system to the automotive insurance industry. This will be an expansion of our existing e-Services offerings into vehicle and transportation clearance management cluster," said Datuk Samsul Husin.
"As a world leader in automotive data and solutions, it is of strategic importance for us to partner with a strong local player and Dagang Net certainly meets this requirement. Together we are set to optimise customer satisfaction and improve efficiency of the claims process that brings value to insurers, vehicle manufacturers, repairers, car owners, regulators and policy makers in the after sales and automotive insurance business," said Mr Brian Seldess.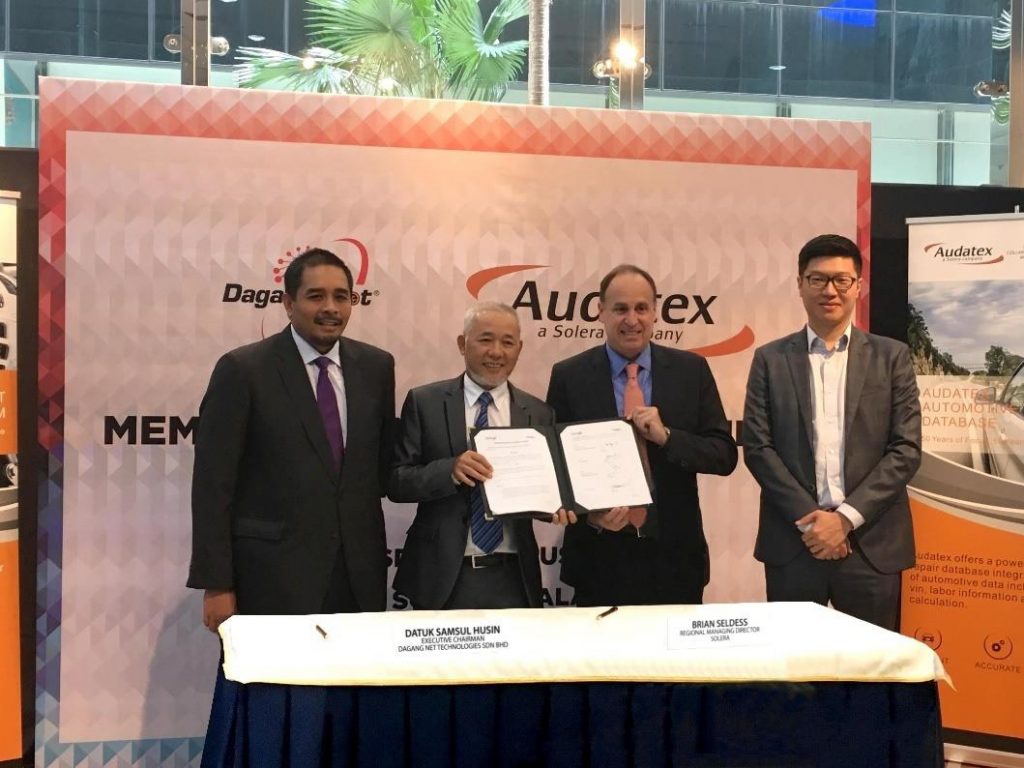 Photo caption (L-R) :
1. En. Wan Ahmad Syatibi Wan Abdul Manan, Chief Executive Officer of Dagang Net Technologies Sdn Bhd
2. Datuk Samsul Husin, Executive Deputy Chairman of DNeX and also Executive Chairman of Dagang Net Technologies Sdn Bhd
3. Mr. Brian Seldess, Audatex APAC Managing Director
4. Mr. Charlie Ting, Audatex Malaysia Country Manager